說明 Introduction
The Spacious high-ceilinged lobby with Mediterranean style tiles create a luminous, modern and cosy atmosphere. Warm and elegant, a breath of fresh air infuses the restaurant. Enjoy your breakfast or have a light meal with Smokey Joe's roasted coffee.
Smokey Joe's Apartment is about a 5 min walk from Yanchengpu MRT station, located in a central area where you can enjoy easy access to various attractions, suchas the Pier-2 Art Center, Love Pier, Yancheng Path, Sizhiwan (The Sizhi Bay), Cijin Seaside, etc. Enjoy the slow pace and bask in the beauty of nature and culture of Kaohsiung.
There is a 24-hour front desk at the property. Luggage storage is possible. Staff at the tour desk will be glad to share travel advice.
Rooms
Each room at this inn is air conditioned and is fitted with a flat-screen TV and free Wi-Fi. The rooms are equipped with a private bathroom. For your comfort, you will find slippers and free toiletries.
We provide a great selection of skincare products: organic shower gel, shampoo & conditioner and lotion, all made in Taiwan.
Smokey Joe's selection: A cup of Smokey Joe's select drip bag coffee to kick off your journey, or a decaffeinated herbal tea for deep relaxation.

DOUBLE ROOM
Essentially a room for two, with one 1 large double-bed. The room also contains animal sculptures that evoke the natural imagery of a forest. An accessible room is also available.
QUAD ROOM
This room is suitable for four people, and has 2 large beds.It offers a cozy space with a modern loft design and country furniture.

BALCONY QUAD ROOM
The delicate exotic wall painting displays a vivid colour palette. The innovative interior evokes a cosy atmosphere that you dream to bask in at home. The following playful miscellaneous items are also included: a mini air hockey table, a Chesterfield leather sofa, a stained-glass chandelier, rick n'roll chic beds and a balcony decorated with tropical plants. Get ready for surprises and have fun with us!
Food and beverage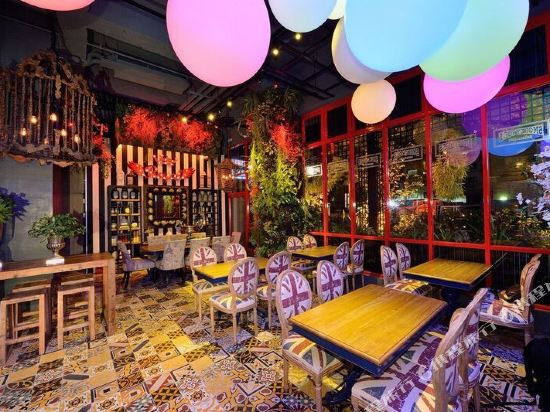 The restaurant in Joe's Apartment serves popular dishes found in Smokey Joe's brand restaurants: smoked pork rib plate, sizzling pork knuckle and baked potato, red wine braised lamb led, boneless short rib steak and baked potato. It is an ideal place to have either lunch or dinner.
To receive a quotation please send us the following information:
1) Date:
2) How many persons (adults, kids and infants):

Email:
✉ anna@northwest.com.tw
✉ taiwan.tour@northwest.com.tw
We will send you a quotation within 48 hours (Monday to Friday).